If you are looking for a laptop under the budget range of Rs.10,000 for your kids and education purposes. We'll guide you, is it possible to buy a good laptop under this range or is there an alternative option available? My honest opinion is no; because in the budget range of 10,000 there is no such company in the market that can give you basic feature laptop. But, I will recommend some alternative options, for that you can go.
The first option is to buy a tablet under the range of 10,000 which is pretty good as compared to a laptop in the budget or either you can visit the refurbished electronic shop at your place where the old laptop bought and sold. There are some good chances to get a good configuration laptop in the budget range of 10K to 13K. But before making a purchase from the refurbished market, make sure the product is fractionation proper and take assurity of the product from the seller.
After all, if there is no option then you can check out the below-given laptop and tablet which cost is laptop under 10,000 to 15,000 range.
1. Asus Vivo Celeron E203MA-FD014T Laptop
| | |
| --- | --- |
| Display | 11.6 Inch (1366 x 768) HD LED Backlit Glare Display |
| Processor | 1.1 GHz Turbo Boost Upto 2.6 GHz, Intel Celeron Dual-Core Processor |
| Memory  | 2 GB DDR4 -RAM |
| Graphics Card | Intel Integrated UHD 600 |
| Storage | 32 GB eMMC |
| OS | Windows 10 |
2. Acer Aspire A315-33 Laptop
| | |
| --- | --- |
| Display | 15.6 Inch (1366 x 768) HD LED Backlit TFT Display |
| Processor | 1.6 GHz Turbo Boost Upto 2.4 GHz, Intel Celeron Dual-Core Processor |
| Memory  | 2 GB DDR3 -RAM |
| Graphics Card | Intel Integrated HD |
| Storage | 500 GB  |
| OS | Linux |
3. iBall CompBook M500 Laptop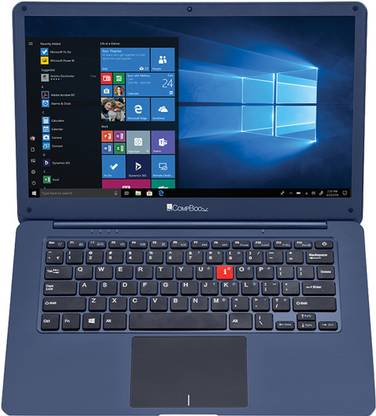 | | |
| --- | --- |
| Display | 14 Inch (1920 x 1080) Full HD LED Backlit IPS Display |
| Processor | 1.1 GHz Turbo Boost Upto 2.4 GHz, Intel Celeron Dual-Core Processor |
| Memory  | 4 GB DDR3 -RAM |
| Graphics Card | Intel Integrated HD 500 |
| Storage | 32 GB eMMC |
| OS | Windows 10 Home |
Buy From Flipkart | Buy From Amazon
4. Asus EeeBook Celeron E203NA-FD088T  Laptop
| | |
| --- | --- |
| Display | 11.6 Inch (1366 x 768) HD LED Backlit Glare Display |
| Processor | 1.1 GHz Turbo Boost Upto 2.4 GHz, Intel Celeron Dual-Core Processor |
| Memory  | 2 GB DDR3 -RAM |
| Graphics Card | Intel Integrated HD 500 |
| Storage | 32 GB eMMC |
| OS | Windows 10 |
5. Iball CompBook Excelance Laptop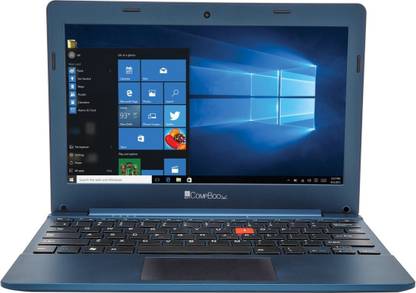 | | |
| --- | --- |
| Display | 11.6 Inch (1366 x 768) LED HD Display |
| Processor | 1.33 GHz Turbo Boost Upto 1.83 GHz, Intel Atom Quad-Core Processor |
| Memory  | 2 GB DDR3 -RAM |
| Graphics Card | Intel Integrated HD |
| Storage | 32 GB eMMC |
| OS | Windows 10 Home |
Buy From Flipkart | Buy From Amazon
6. iBall CompBook Celeron Merit G9 Laptop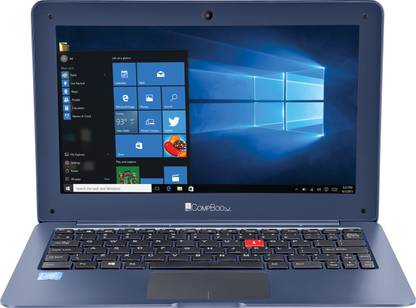 | | |
| --- | --- |
| Display | 11.6 Inch (1366 x 768) HD LED Backlit Display |
| Processor | 1.1 GHz Turbo Boost Upto 2.4 GHz, Intel Celeron Dual-Core Processor |
| Memory  | 2 GB DDR3 -RAM |
| Graphics Card | Intel Integrated HD 500 |
| Storage | 32 GB eMMC |
| OS | Windows 10 Home |
Buy From Flipkart | Buy From Amazon
7. RDP ThinBook 1430-EC1 Laptop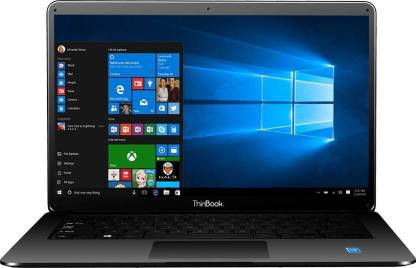 | | |
| --- | --- |
| Display | 14.1 Inch (1366 x 768) HD LCD Display |
| Processor | 1.44 GHz Turbo Boost Upto 1.92 GHz, Intel Atom Quad-Core Processor |
| Memory  | 2 GB DDR3 -RAM |
| Graphics Card | Intel Integrated |
| Storage | 32 GB eMMC |
| OS | Windows 10 |
Buy From Flipkart | Buy From Amazon